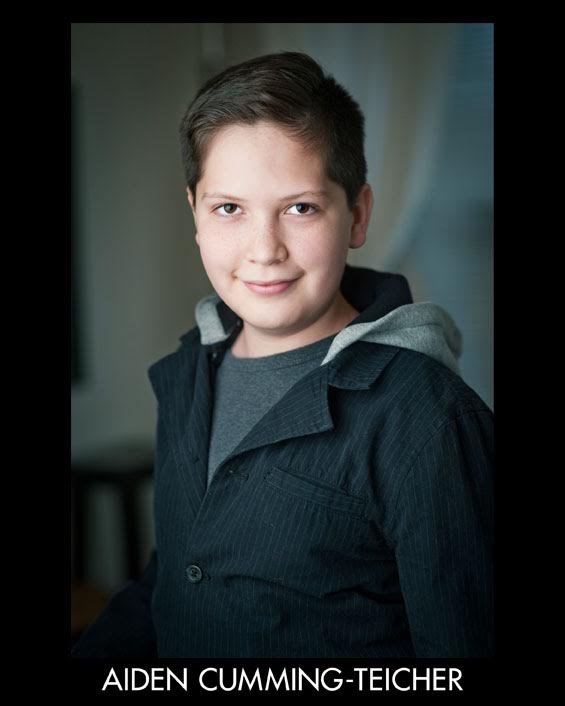 Vancouver's own
Aiden Cumming-Teicher
has had a dazzling start to the new year! In addition to a starring role in the upcoming feature film "Beyond the Sun"
which was shot on location in Argentina, he just received several award nominations. Aiden's recent film performances have earned him a 2017 Young Entertainer Award nomination in the category of Best Young Actor 11 and Under - Short Film for "Always There" and a
2017 Young Artist Award
nomination in the category of
Best Performance in a Short Film - Young Actor
for his role in
"Always There."
Aiden's other feature films include Dan Starling's art film
"The Chorus"
and Pristine Entertainment's
"The Glove."
Aiden has enjoyed performing since he was a toddler. He has been described as an enthusiastic professional with a wonderful sense of humour, qualities that have helped him thrive in the television and film industry. Aiden initially began training in musical theater, but loved his first experience on a film set so much that he shifted direction. He began taking on camera-acting classes at the age of nine and has appeared in numerous short films, including the role of 'Clem' in the film
"Lou,"
the lead role in
"In Hiding,"
"Always There,"
"Lee's Choice," "Thumbs Up,"
"Book Box,"
"Jeremy Tanner is a Sicko,"
"The Sock Paradox,"
and
"Written."
Aiden has trained in acting with Athena Russell, Julian LeBlanc, Josette Jorge and Jeff Gonek, and audition coaching with Laura Adkin and Sarah-Jane Redmond. He has also branched into voice acting and studies voice actor training with Brent Halfyard at Halfyard Productions. Aiden received
2015
Joey Award
nominations for his voiceover work in the animated short film "Written" and for his performance in "Lou." He was also nominated for a 2016 Joey Award for his role in "Always There." Aiden won the
2016 Young Entertainer Award
for
"Lou."
Aiden is also passionate about bringing awareness to rare forms of cancer due to a very personal experience. When Aiden was only 7-years-old, his mom was diagnosed with stage 4-Appendix Cancer. Thankfully she survived and is now cancer-free, but at the time it was especially challenging. Together, Aiden and his mom wrote a children's picture book named
"Bellybuttonless" to help other families going through it. The book has helped countless families, has been used by people in international support groups and a .pdf version of the book is available for download online at no cost. Aiden won the
"Most Inspiring Story"
award at the
2016 Everiathing Wall of Stars Awards Night
in Vancouver in acknowledgment of his dedication and charitable work in this area.
Aiden is a quick study and enjoys school very much, especially science and technology. His favourite subjects are physics (particularly quantum physics) and advanced math. He speaks basic French and Spanish and his hobbies include fishing, horseback riding, taekwondo and water polo.
Official Sites:
Demo Reel
http://www.aidencummingteicher.com
https://aidencumming-teicher.workbooklive.com
Aiden is is available for interviews and personal appearances, upon request, and is represented by Lissa Lloyd of Lloyd Talent 604-589-7559 /
lissa@lloydtalent.com