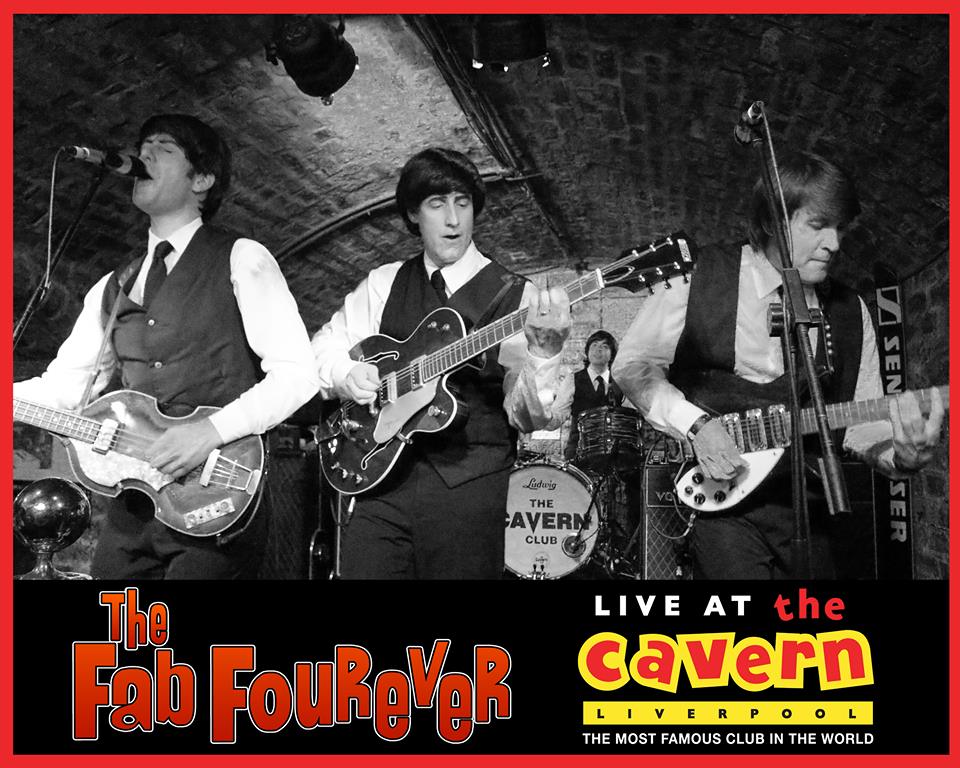 Based in Vancouver,
The Fab Fourever,
Canada's most renowned Beatles Tribute Band, will soon be heading to Hong Kong for the first time to debut their amazing show for the Asian market. In the summer of 2015, they took the trip of a lifetime to Liverpool, England where they gave 10 performances as part of International Beatleweek. They were the only Canadian band invited to this prestigious event. The annual International Beatleweek Festival celebrates the music of the Beatles and is organized by Cavern City Tours, Liverpool's leading tour operator. The Fab Fourever is managed by Simon Gunn and consists of Jody Tennant (Paul McCartney/Bass & Vocals), Kevin Davey (John Lennon/Rhythm Guitar & Vocals), Charles Boname (George Harrison/Lead Guitar & Vocals), Paul Kaszonyi (Drums & Vocals), Blake Mackay (Keyboards & Sound Effects), Jenn & Terry Cormack (Road/Stage Manager). I had the pleasure of speaking with Jody Tennant back in September 2015 after they had returned from Liverpool.
NP: Hi Jody. Congratulations and welcome home! How's the jet lag?
JT: Thanks so much, it's good to be back. The jet lag has been challenging. My legs have felt like lead, and I've been extremely lethargic and tired, but I would welcome the opportunity again should it arise.
NP: Can you tell us how the band came to be invited to Beatleweek?
JT: Our manager has communicated with several 'Beatle Fests' throughout the world over the past several years, but the one in Liverpool has been at the top of our list. In the fall of 2014 we were told that they would send a representative out to 'scout' the group and see if we would make the grade. June of last year saw us performing at the Clova Cinema in Cloverdale. They were closing it down for good and wanted to give it a grand send off and we were to perform for two nights. Just before the first show we were told that the representative of the International Beatleweek was in the audience, which was nerve wracking to be honest. The cinema wasn't a music venue and we had to turn it into one, so there were bound to be a couple of hiccups. The show turned into a rousing success. Both nights were sold out, and the representative seemed happy with what he saw and stayed behind to introduce himself and talk to the group. We received notice this past February that we were chosen to represent Canada at the International Beatleweek. Needless to say, we were pretty excited for the opportunity!
NP: Had any of you been there or performed there before?
JT: Our drummer Paul, and rhythm guitarist Kevin had performed at the Cavern Club ten years previous with their original act. The Cavern hosts many acts from around the globe and continues to be known for its live music. So Paul and Kevin performed there and were able to let us know some of the details.
NP: What went through your mind when you first arrived in Liverpool?
JT: As a lifelong Beatles fan, the first thing I noticed/felt was the history. An older building here in Vancouver is 80 years old, where in Liverpool that is considered a fairly new building. But ultimately just to be THERE! This was the birthplace of my musical heroes. And Liverpool has not forgotten the Beatles. They were everywhere. Be it Statues, or on the side of tour busses, taxis, road signs tourist shops… The Beatles were everywhere.
NP: Was playing the Cavern Club everything you dreamed it would be? How's the air down there?
JT: Funny that you should mention the air… or lack thereof. It is true what you've read. The air is stifling. It is thick, hot and moist. There is a dank smell that reminds you of your aunt and uncle's basement. Thankfully they have banned smoking or realistically I don't know how one would be able to breathe down there. And yes – it was everything that I had dreamed about and more. In fact, I don't think it had ever occurred to me that I would have played there until we received the news, and even then I kept thinking that something would happen to prevent it – a freak power outage etc.… The instruments were wet to touch due to the moisture and the room was electric. The group was in fine form, despite our nerves. There we were – playing their music, on their stage, in their hometown. Somebody pinch me.
NP: Was the band well-received?
JT: Surprisingly so. I thought we would be ridiculed for our ridiculous attempts at our 'scouse' and there was a lot of pressure being a 'tribute band'. We were pretending to be these four much-revered sons of Liverpool for Liverpudlians. They seemed to love it. Not one person mentioned anything about the accents. In fact we were asked what part of the 'North' we were from. And we developed a bit of a following and they attended many of our shows throughout the week.
NP: What are the audiences like in Liverpool? Do they differ from the audiences you've had at home in Vancouver and across Canada?
JT: The audiences have been tremendous wherever we perform, but those attending Liverpool Beatlweek were a more discerning audience, to be honest. These audiences knew their Beatle music. We had prepared several different sets featuring many rare tracks and most of the audiences sang to every number. For instance, we couldn't perform track like 'Tomorrow Never Knows', or 'I'm Only Sleeping' during one of our theatre shows. Most would think that it is one of our own songs. Only a handful would recognize it. But there – they were all sing-alongs.
NP: How many other tribute bands were performing in the Festival?
There weren't many full 'Tribute Bands'. A tribute band is one like us – who chooses to not only play the music, but to actually perform as if we were the Beatles, in dress, mannerisms and song presentation. Each member plays/sings what their particular Beatle did all those years ago. Many of the bands were 'cover bands' or original acts that have been inspired by the Beatles and covered their songs for this festival. We thought we would be one of many tributes and each one would be up there in the suits/wigs etc. all performing 'She Loves You' over and over again, but it was far from that. The International Beatleweek was meticulous in its scheduling to keep the acts different and unique at any of their venues.
NP: What are some of the differences between The Fab Fourever and the other Beatles tribute bands you've seen/heard?
JT: While in Liverpool the tribute acts were all quite similar. I think we held our own against some of the top tribute acts from the world. We arrived as a little fish in a big pond, and left with feeling larger in a smaller pond. People/other bands did indeed take notice and we enjoyed the camaraderie at his event. What sets us apart here at home is our attention to minute details. From left handed bass/guitar work to keyboards/sound effects that are second to none, to amazing costuming and well rehearsed on-stage mannerisms correct to our characters.
NP: It must have been amazing meeting the Beatles original drummer, Pete Best…did he have any words of wisdom for you?
JT: Meeting Pete Best was the icing on the proverbial cake. There was no expectation to do so, and it came about in a magical way. When Paul and Kevin had gone to Liverpool ten years prior, they had met Pete Best's guitarist Phil and had struck up a friendship. While walking the streets of Liverpool this time around we ran into Phil and the rekindled their relationship with him inviting the group up to a very private affair at the Casbah Club. This club was actually created for the Beatles by Pete Best's mom so that they had a place to play in the early sixties. Their show started at 10pm as did one of ours, so we hopped into a cab right after our show and headed up to the Casbah. We arrived and were escorted into the coolest venue I've ever been to (even cooler than the Cavern). It was deep into the foundation of an older house. Seemingly carved into the brick. We could here the music and see light through a throng of heads bouncing up and down. The door was small, and the ceiling quite low. It was as sweaty and hot as the Cavern, if not moreso. The music was pulsing and raw. It was perfect. I've head many people say that Rock n' Roll is dead… but its not – it has gone underground. In places like the Cavern and the Casbah Club. It breathes, it is sentient and indeed is alive. During the show I made friends with Pete Best's grandson and he introduced us to Pete after the show. It was an amazing experience to meet one of the Beatles in the place where it all started. It is tough to put words to it. Unfortunately we had to race back to perform at 2am and we couldn't stay to visit. We tracked down a cab and were off for our eighth show in four days…
NP: You also had a private guitar lesson from Donovan – what did you learn from him?
JT: Donovan is a musical genius and continues to create musical wonders. The Fab Fourever joined four other individuals for a Guitar/Songwriting Masterclass from Donovan. During this time he shared with us how he would create melodies and chord structures. He would also go into how some of his peers would create their songs. He discussed John, Paul, George, Eric Clapton, Keith Richards, etc. and how they would find inspiration in the notes that they played. Donovan found musical melodies in everything he did. It was pretty cool to watch. What was also cool was that he would ask The Fab Fourever's Charles Boname (George in the group) to tune up his guitar as Charles' proved his worth to Donovan. I know that Charles really admires Donovan and regards him as one of his musical heroes and for him to be asked by the Master himself to tune up his guitar would have been an amazing experience.
NP: Let's 'get back' to the beginning for a moment. What made you want to start a Beatles tribute band and how did you go about it?
JT: The idea came about in late 2005. My family and I had met Paul McCartney backstage at his concert in Seattle and it was a feeling that I won't soon forget. What came about after this meeting was that I really wanted to play/perform as 'Paul' in a Beatles tribute act. I was trying to figure out how to make this possible when I read an ad on Craiglist looking for people wanting to start a Beatles tribute. I answered the ad and met Eric Lefebvre who wanted to play the role of 'John'. We got together with my brother on drums and just played Beatles music in his basement bedroom and just had a great time. We loved it. We weren't very good, but definitely the spark was there. We started playing pubs and clubs and it took off from there. In 2009 we started into Casinos and Theatres with our multimedia presentation and audiences have loved it.
NP: One of the best examples of your commitment to the band is that, although you are a righty, you actually learned how to play left-handed bass for authenticity – how difficult was that and long did it take you to perfect?
JT: You know the Beatles were unique for many reasons. Musicality, personality and style. But one of the things that is most recognizable about the group is their symmetry on stage. With two guitarists right handed and Paul on bass left handed creates a beautiful symmetry that is a key part of the show. Many times during performances I can see parents pointing me out to their children describing the left handedness. And I've been complimented for this fact as people want to see this symmetry (as long as it doesn't effect the musicality). It took hours and hours to learn to play left-handed and in fact I am still learning to this day. Although I can't play right handed anymore. My ukuleles at home are left-handed as well. At night after my wife and children were asleep, I used to listed to the Beatles through small head phones with my bass through larger head phones and just play the music over and over and over. McCartney's bass lines are quite challenging, and to perform them live with vocals is a lot of fun.
NP: Who came up with the name "The Fab Fourever?"
JT: I did out of necessity. Our previous group had been called 'Twist and Shout' but a large group out of the U.S. with the same name wasn't happy about us having their name (which is odd to me to this day as there are so many Beatle bands with the same name). So I wanted a name that would make one think of the Beatles when they hear the name, yet have it spelled incorrectly so that we weren't copying another group or could be accused as such. It seems to have stuck and people enjoy the 'four'ever and can see the similarities with the 'bea'tles name.
NP: How many years has the band been together and how many configurations has it gone through?
JT: The band started in March of 2006 with myself as 'Paul', Eric as John, we asked his friend Elliot Langford to play 'George' and had my brother Aubrey Tennant on drums initially, until we could find our Ringo. We found him soon after. His name was Rocky Sounds and he was an accomplished Beatle musician and could play any of the roles. We had a Elliot's friend Joe join us on keyboards for bigger shows We played in pubs and clubs throughout Vancouver and had a great time doing so. As the band grew in popularity we were asked to play more and more and the time commitment created some challenges and Elliot and Joe decided they wanted to focus their attention to their original act which had released a new album and they even made the front cover of the Georgia Straight. Simon Gunn joined us as our manager and added some solid leadership and a wealth of knowledge from his prior musical experience as a manager/music promoter. In late 2008, Eric and his fiancée were heading off to live in England and Kevin Davey joined the group as 'John'. Not only did he look and sound the part, but he had the drums, a couple of George guitars and a fire in his belly to make this thing take off. We had one of Kevin's former guitarists Phil Bell join us as 'George' and we asked Kevin's lead guitarist from his group Paul Kaszonyi to join us as 'Ringo' although he needed a month "to get the drums down". With Paul as 'Ringo, Rocky moved up to George for a short stint before heading home to Quebec to be with family, and we found Jean-Luc Perron to perform as 'George'. So by the end of 2009 the group was set. Myself as 'Paul', Kevin as 'John', Jean-Luc as 'George' and Paul as 'Ringo'. Jennifer Cormack and her husband Terry joined us shortly thereafter as our 'Road Manager/stage manager' and are an integral part of our family both on the road and at home. We added keyboards and sound effects with the master - Blake Mackay in 2010. Last year we Charles Boname joined the group as 'George' due to scheduling conflicts with Jean-Luc and the rest is history. It is a tremendous family and it was great to share the success of Liverpool with all involved.
NP: How comprehensive is your repertoire now?
JT: We try to have a new show every year. We change it up so that it is not the same show that a city saw the previous previous. Obviously audiences want to see/hear songs like 'She Loves You' and 'Hey Jude', and we will always play these immensely popular songs. But what we also do is try to bring out the rarities. Those gems that are little known, but well loved by those who know them. Songs like 'In My Life', Obla-Di Obla-Da', etc. We now have a 'Cavern Club' portion to our show, as well as 'Magical Mystery Tour' amongst the veritable plethora of costume changes we already have. We can switch up these sets and have become adept at costume changing without missing a beat or stalling the show. For example, I will perform 'Yesterday' with my acoustic guitar (left-handed of course) while the others change into the costuming for the next set. When finished I change as the other three are performing the next song. It is quite clever and we're quite proud of how we do this.
NP: How many sets and costume changes do you go through during an average performance?
​
JT: Normally a full theatre show will consist of four costume changes. Two in our first set and two in our second set. But we have have some new plans for our shows in 2016 that will push these boundaries. It would be quite funny to stick a camera back stage and watch how we have to change suits/costuming/wigs/facial hair in the matter of a couple of minutes. We've never missed yet with the changes, but they are always walking a thin line and we can laugh about it after the show has finished.
NP: What were some of the other highlights of your trip?
JT: The Cavern Stage, The Casbah Club were key highlights. Meeting and watching the other bands performing. We would be having breakfast with a Russian Tribute and they looked equally exhausted as us. The locals were amazing as well. We were befriended by a lady named Anne who was born and raised in Liverpool and she took an afternoon and drove the group around the town and showed the rare spots that the Beatle tours don't go to. The early homes of the Beatles etc. It was great to see the city through her eyes. The main highlight though was being able to share this experience with the Fab Fourever family. What a great bunch of people. We soaked it all up and just had a blast.
NP: So now you've performed at the Cavern Club in Liverpool, met Sir Paul McCartney backstage at one of his concerts and actually bumped into Paul's son James in London this trip. You must really believe that dreams do come true! How do you plan to top all of this and what's next for the band?
JT: Interesting – it sounds pretty cool when put this way. It has been a lot of hard work and there has been a lot of heartache and blood sweat and tears that has gone into this project. Next week we are off to the Okanagan teaming up with an amazing Buddy Holly tribute artist named Zachary Stevenson to show the 'Big-Bang' theory of the Beatles with the Buddy influence. It is a very cool show featuring Buddy Holly and his influence on the Beatles. The international market has been calling for several years and now that we've played abroad this could become a reality. A cross-Canada tour has been bandied about. Going into Ontario, Quebec, Manitoba and the East Coast etc. But in all honesty we really enjoy playing at home. BC, Alberta, Saskatchewan – Western Canadians love this music and we really enjoy brining this music to those that maybe were old enough to see the Beatles but were one of the many who couldn't get tickets, or for those like me who weren't alive during the Beatles' days and give them the feeling of knowing what watching them might have been like. I feel that there is a responsibility of groups like ours to do their homework so that the audiences actually feel like they are watching the group. The details - the harmonies, the costuming, the guitars, the symmetry. It all adds up. There are many Beatle cover bands out there, and audiences will enjoy the experience and the music transcends the details. But to have the music as well as the details is what sets us apart from many of the other acts and the audiences will see/hear the differences and will appreciate the full true experience. We take pride in this. It's what keeps our fire burning and it's what brings back our audiences to our shows. It's our passion and it's contagious. It's why we say 'A Splendid Time Is Guaranteed For All'. Thanks Lisa, for having me, and I look forward to seeing you again soon.
Twitter

​
© 2016 NoodleHead Productions, all rights reserved.
(Originally published at Examiner.com)